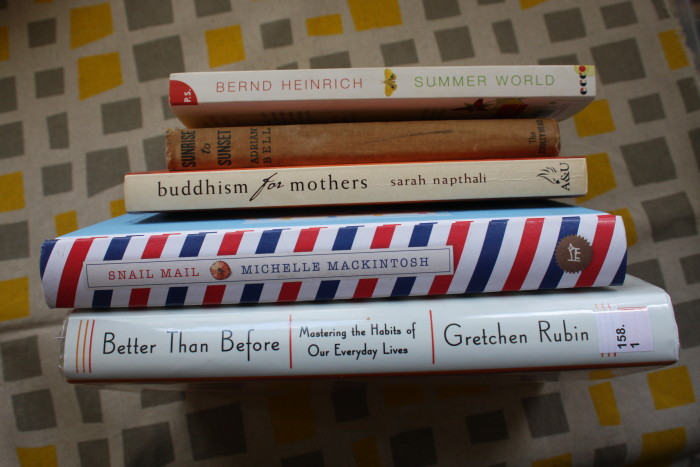 I think I have made it clear that I love books, and since a lot of the blogs I like have been talking about summer reads I thought I would go through my shelves and pull down a few of the books I want to read and make a plan to read them over the next few months.
So here is my summer reading list (so far):
Summer World by Bernd Heinrich (ISBN-10: 0060742186) – This is an America-centric book about nature in the summer, but I figure there is probably some cross over. Hopefully it'll give me fact to tell the children.
Sunrise to Sunset by Adrian Bell – this is a book about life in the British countryside in the early 1940's.
Buddhism for Mothers by Sarah Napthali (ISBN-10: 1742377017) – I keep picking this book up, reading the first chapter and then getting distracted. This is the summer I'm going to read the whole thing.
Snail Mail by Michelle Mackintosh (ISBN-10: 1742708773) – when I was a teenager I had a number of pen friends and really enjoyed it. I still enjoy writing letter, but I don't do it very much. I saw this book reviewed at Wild Olive and thought it would inspire me.
Better than Before by Gretchen Rubin (ISBN-10: 1444768999) I'm one of the few people who hasn't actually read anything by Gretchen Rubin before. But I'm half way through this at the moment (and incurring library fees since I can't renew it, there is that much of a waiting list for it), and it's really interesting.
I'll report back at the end of the summer (if not before) and let you know how I got on. 🙂